The supply chain revolution is here and companies must transform to become socially and environmentally responsible.
Brands face increased pressure from purpose-driven customers, disruptive competitors, concerned shareholders and distressed suppliers. In order to survive – be it a Fortune 500 or a high-growth e-commerce startup – companies must undergo a transformation in how they source, produce and deliver their products and services.
Supply chain sustainability is the backbone and competitive advantage of the world's most successful companies.
Companies can no longer rely on incremental impact, legacy systems and traditional corporate responsibility. Sustainability with integrity is hard; it requires a clear vision for the future, an understanding of complex ecosystems, and the agile deployment of interconnected strategies, systems and capabilities.
GoodOps makes transformation easy by designing innovative strategies to implement custom sustainability frameworks.
We are the compass for our clients, guiding them to stay one step ahead during a time of accelerating change. We realign and digitally connect supply chain networks across brand values, embedding new ways of thinking and collaborating from the c-suite to the frontline across partners. In parallel, we explore and leverage advanced technologies to explore the best way to make the desired impact on the resources and workers in the supply chain. We empower companies to become strong stewards of our planet and people so they can feel confident sharing an authentic journey with their customers.
Companies that transform into sustainable supply chains will improve profit, streamline operations and mitigate risk.
Customers choose purpose-driven brands over competitors, the most talented employees want to work for them and investors seek their limited risk profiles. End-to-end visibility, from raw material to finished goods, drives accountability and agility, helping brands become true partners in their supply network. Savings and valuable growth opportunities are realized across the extended value chain. And higher quality, socially responsible products differentiate their offering and justify premium pricing.
The key to success is properly prioritizing, organizing and resourcing complex sustainability initiatives.
All companies know they must implement social and environmental initiatives, but many times, this requires sourcing from new suppliers, adopting alternative materials and restructuring supplier contracts; the hard part is knowing where to start and how to execute. In every engagement, we design custom, multi-disciplinary teams augmented by networks of global experts with the necessary experience, skills and pragmatism to ensure results. Applying universal principles, market specific nuance and an agile approach, we scale what works.
We believe transforming supply chains is the fastest way to positively impact the world.
The 17 UN Sustainable Development Goals is a powerful blueprint for brands. Goal #5: Gender Equality, #8: Decent Work and Economic Growth, #10: Reduced Inequalities, #12: Responsible Consumption and Production, #14: Life Below Water, #15: Life on Land and #17: Partnerships for the Goals are just some of the goals brands can begin to focus on today. By simplifying complex sustainability initiatives, GoodOps helps companies achieve the impact they want to have in the world in a meaningful way.
View our services to see how GoodOps helps brands and startups build a competitive advantage through supply chain sustainability. Or send us an email at info@goodops.co to get started today.
Recently the GoodOps co-founders were invited to present at The New York Supply Chain Meetup and share their innovative take on supply chain transformation consulting services. We had an incredible time being able to hear the different perspectives on supply chain innovation from experts across the industry. Each of the companies that presented are taking unique approaches to integrating advanced technologies, sustainability frameworks and agile operations in order to help brands build a competitive advantage through their supply chain:
For anyone interested in innovative supply chain solutions, The New York Supply Chain Meetup is a diverse, knowledgeable and open community of leaders looking to connect and exchange insights. The event is open to all, whether you're an expert or just an individual looking to learn more about the industry, which promotes a lively discussion and new perspectives on the topics at hand.
We want to thank Brian Laung Aoaeh and Lisa Morales-Hellebo, our friends and the co-founders of the event, for inviting us and giving us the opportunity to present our ideas and services to all those that attended. If you are interested in signing up for a future New York Supply Chain Meetup, please fill out the form below on their website, and welcome to the community!
The New York Supply Chain Meetup Signup Link
For more news and information regarding GoodOps, signup here for our "North Star" newsletter.
Congratulations to ABLE for launching a bold and disruptive campaign in fashion – publishing factory worker's wages. Based on a rigorous supply chain audit performed by GoodOps, brands can evaluate their supply chains for potential risks. ABLE is a social enterprise focused on uplifting women out of intergenerational poverty. They are taking bold steps towards transparency to ensure their social impact marketing aligns with actual business practices. Their big dream is brands sharing their worker's wages on the label of each garment the same way nutritional facts are labeled on food.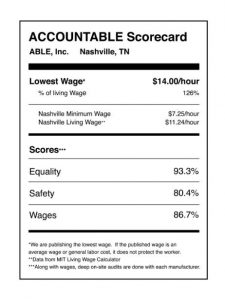 ABLE believes consumers will demand change once informed on the human cost of their purchases. ABLE wants brands to take the #PublishYourWages challenge to lift more women out of poverty globally. GoodOps is proud to have designed and led the sustainable supply chain audit for this powerful and ground-breaking initiative.
Learn more about their revolutionary campaign to change the fashion industry in Fast Company. #PublishYourWages #ShesWorthMore #livefashionable
De-risk your supply chain and strengthen your social / environmental impact through a custom supply chain audit – learn more about our services here: GoodOps.
Are better wages the new competitive advantage? Today, Amazon, a pioneer and innovator in commerce, media and technology, is unleashing their latest innovation: an industry leading minimum wage for all full-time, part-time and seasonal workers in the United States. Effective November 1st, the company will offer its 350,000 employees a minimum of $15 an hour. Although the pay increase is still a dollar short from federal livable wage, currently $16.07 per hour, Amazon is taking their criticism and transforming it into a competitive advantage. As Amazon raises wages, they are also pushing for federal law to follow their lead. If successful, Amazon will once again be ahead of the curve, as this cost will already be incorporated into their operations while other companies struggle to balance their finances. Also, as more companies seek to position themselves around social issues, Amazon has taken the lead on a topic that meaningfully and powerfully engages both their workers and consumers.
Want to learn more?
Zume, a restaurant chain founded in 2015, is propelling the food industry into the future by changing the way your pizza is made. The company uses robotics and artificial intelligence to receive orders, prepare, and deliver pizzas. Robots press the dough, squirt sauce, and then a human places cheese and toppings to your liking from an online order. Perhaps most noteworthy, the AI has collected so much user data, it can predict one's order before they've even completed it. Zume's system cuts order time by up to 20 minutes through these efficiencies. The restaurant's high efficiency can even churn out 370 pizzas an hour. SoftBank is planning to invest $750 million in Zume's pizza robotics, setting up this company to be a contender in the pizza delivery industry. Are automated cooking services the future of the food industry? Will human touch be lost in QSR efficiency, or will it remain an integral part of modern day culture?
Want to learn more?
The age of wasted produce has a sustainable light at the end of the tunnel. Apeel, a company founded on the idea of reducing produce waste in grocery stores and supermarkets around the world, is transforming food quality by  increasing the lifespan of shelf items. By using a harmless plant-based coating, it can extend the lifetime on a shelf from days to even weeks. U.S retailers lose up to $18 billion annually on lost produce that's thrown away.  However, Apeel is looking to cut this number drastically for the years to come. For example, Apeel reduced produce waste by 60% during an initial four month pilot with a leading U.S. regional grocery chain. Apeel executives have stated they plan to grow gradually, despite so much interest from distributors nationwide. The company has also hinted at aiming to stay just within the U.S. However, talks with Peruvian distributors may have the company heading in a more globalized effort in in the future. Food companies must innovate to meet future needs of both consumers and the environment. Where will technology lead us into the future with food sustainability? Will this be a key element aiding global hunger by reducing waste?
Want to learn more?
German pharmaceuticals firm Merck KGaA's health-care division is aiming to implement a new AI augmentation process. Merck plans to implement the new process after deciding to switch to an automated supply chain system. The new system will incorporate AI and predictive analytics throughout Merck's entire supply chain in 2019. Incorporating this type of technology is known to provide a competitive advantage in the industry. Merck already is using forms of AI to show trends, dips, and spikes across 100 products in a pilot program. In 2021, so-called AI augmentation will generate $2.9 trillion in business value and recover 6.2 billion hours of worker productivity, according to forecasts from Gartner Inc. Since the beginning of their implementation, Merck's CIO, Alessandro de Luca, has seen nothing but positive effects. Their success had led to them to push the pendulum to a fully automated supply chain system across their 5,000 products. Is AI going to be a key element for growth in any industry in the future? Where are there areas where this technology can't be beneficial to industries of the future?
Want to learn more?
Walmart has recently developed a new and technically advanced blockchain system. The retail behemoth has recently applied to the U.S Patents and Trademarks office for the new system. Walmart stated it will "provide a technology for running "in-field authenticating of autonomous electronic devices." Most importantly, it will enable secure deliveries for a more efficient supply chain. Even more, the patent aims to have two separate autonomous electronic devices verify shipping and delivery methods without human assistance. Walmart has even recently deployed a blockchain "leafy greens" tracker to ensure safety in produce, and reduce E. Coli outbreaks. The entire project will change the way the retail giant ships and delivers packages globally. Therefore, Walmart's blockchain project will cut spending and time needed to check delivery across all supply chain mediums using. Finally, Walmart has titled the patent "Systems, Devices, and Methods for In-Field Authenticating of Autonomous Robots." Will companies fail long-term if they refuse to convert to AI supported supply chains, or is it simply an advantage?
Want to learn more?
UPS is launching a predictive analytics tool that analyzes over 1 billion daily data points to augment employee decision making and improve logistics planning. It will be available to employees via an app on their smartphones, desktops and tablets. In order to properly launch the tool, UPS first had to integrate their vast amounts of data from multiple applications into a single platform. The predictive analytics tool is just one part of a larger $20 billion capital spending plan that aims to solve rising ecommerce challenges and keep them ahead of aggressive rivals such as FedEx and Amazon.
Read more here in the original Wall Street Journal article. Also, see our case study on how we helped a leading global cold chain solutions provider launch their innovation program to more effectively harness technologies such as artificial intelligence for predictive analytics.
Read more here in the original Wired article. Also, see our case study on ___?
____.