"Above all we understood we went way too far. Our reckless actions have burned the house we live in," says Gucci creative director, Alessandro Michele.
Angeli Mehta explores the troubling reality facing the fashion industry in her recent article in Ethical Corporation: "'Pandemic forces fashion industry to take stock."
The dire conditions facing manufacturing communities, due to abrupt cancellations of apparel orders from global brands, is accelerating the already critical crisis.
Highlights from the report include:
The average market capitalization of apparel, fashion and luxury brands dropped almost 40% in the year to the end of March.
McKinsey expects "a large number" of global fashion companies will go bankrupt in the next 12 to 18 months.
In 2016, WRAP estimated the fashion industry global supply chain waste was 800,000 tonnes, even before any clothing reached the consumer. In the UK alone that year 300,000 tonnes of clothing went to landfill.
The industry accounts for 10% of global carbon emissions.
McKinsey's survey of North American and western European sourcing executives reveals not all brands are taking steps to support their supplier base. And only 19% are providing pre-payment for orders, even though 64% of respondents said this action would have a significant impact.
The pandemic has increased consumer interest in sustainability: a survey of consumers carried out in Europe and the US in March suggested 20% of them want to support local business, and in Europe 16% said they'd be buying more socially and ecologically sustainable clothing in future.
Consumers have also taken note of efforts by brands to look after their employees, contributing items like PPE, or donating to their communities.
The Textile Recycling Association fears that unsold stock will take the place of secondhand clothing in many markets in eastern Europe.
Read more here: https://bit.ly/2AwaaVw
Pierre-Francois Thaler, Co-founder and Co-CEO of EcoVadis, perfectly articulates  the new business imperative – sustainable supply chains – in his piece in Future of Sourcing, "The Growing Business Criticality of a Sustainable Supply Chain."
Key insights include:
88% of studies found companies adhering to social or environmental standards showed better operational performance, with 80% showing a positive impact on stock performance.
Sustainably minded shoppers will spend $150 billion on sustainable products by next year. That's $14-22 billion more compared to prior years, pointing to new sales opportunities for businesses that prioritize sustainability in product devleopment.
Sustainable supply chain practices reduce costs by 9-16% and create a 15-30% increase in brand value. 73% of CEOs report sustainable business builds trust and reputation.
Ignoring ESG exposes investments to huge risks and erodes returns. This behavior has wiped out $534bn of valuation in the last five years.
Read more here: https://bit.ly/2NT6xM8
Supply chains are moving in a more sustainable and transparent direction for industries around the world. While this global movement is evident to many, there are still companies, even countries, who remain in the dark ages. The shadow economy of Italy is a stark example. According to a recent New York Times article, sophisticated craftsmanship and hard labor in Italy is often underpaid and overworked. For example, seamstresses for high-end luxury fashion brands can be paid as low as €1 per meter of fabric they complete. The seamstresses and garment makers for these companies often go without contracts and are uninsured. In southern Italy, the most one seamstress has ever made is €24 on a garment. This is a fraction of the articles she produces that often sell for €800 – €2,000 euros for luxury brands. With a rise in transparency, how much will consumers tolerate from a company before they de-risk and humanize their supply chains?
Want to explore further?
Congratulations to ABLE for launching a bold and disruptive campaign in fashion – publishing factory worker's wages. Based on a rigorous supply chain audit performed by GoodOps, brands can evaluate their supply chains for potential risks. ABLE is a social enterprise focused on uplifting women out of intergenerational poverty. They are taking bold steps towards transparency to ensure their social impact marketing aligns with actual business practices. Their big dream is brands sharing their worker's wages on the label of each garment the same way nutritional facts are labeled on food.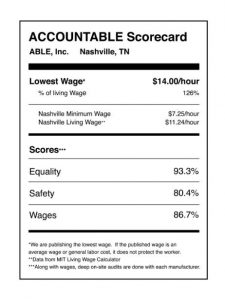 ABLE believes consumers will demand change once informed on the human cost of their purchases. ABLE wants brands to take the #PublishYourWages challenge to lift more women out of poverty globally. GoodOps is proud to have designed and led the sustainable supply chain audit for this powerful and ground-breaking initiative.
Learn more about their revolutionary campaign to change the fashion industry in Fast Company. #PublishYourWages #ShesWorthMore #livefashionable
De-risk your supply chain and strengthen your social / environmental impact through a custom supply chain audit – learn more about our services here: GoodOps.
Are better wages the new competitive advantage? Today, Amazon, a pioneer and innovator in commerce, media and technology, is unleashing their latest innovation: an industry leading minimum wage for all full-time, part-time and seasonal workers in the United States. Effective November 1st, the company will offer its 350,000 employees a minimum of $15 an hour. Although the pay increase is still a dollar short from federal livable wage, currently $16.07 per hour, Amazon is taking their criticism and transforming it into a competitive advantage. As Amazon raises wages, they are also pushing for federal law to follow their lead. If successful, Amazon will once again be ahead of the curve, as this cost will already be incorporated into their operations while other companies struggle to balance their finances. Also, as more companies seek to position themselves around social issues, Amazon has taken the lead on a topic that meaningfully and powerfully engages both their workers and consumers.
Want to learn more?
Zume, a restaurant chain founded in 2015, is propelling the food industry into the future by changing the way your pizza is made. The company uses robotics and artificial intelligence to receive orders, prepare, and deliver pizzas. Robots press the dough, squirt sauce, and then a human places cheese and toppings to your liking from an online order. Perhaps most noteworthy, the AI has collected so much user data, it can predict one's order before they've even completed it. Zume's system cuts order time by up to 20 minutes through these efficiencies. The restaurant's high efficiency can even churn out 370 pizzas an hour. SoftBank is planning to invest $750 million in Zume's pizza robotics, setting up this company to be a contender in the pizza delivery industry. Are automated cooking services the future of the food industry? Will human touch be lost in QSR efficiency, or will it remain an integral part of modern day culture?
Want to learn more?
The age of wasted produce has a sustainable light at the end of the tunnel. Apeel, a company founded on the idea of reducing produce waste in grocery stores and supermarkets around the world, is transforming food quality by  increasing the lifespan of shelf items. By using a harmless plant-based coating, it can extend the lifetime on a shelf from days to even weeks. U.S retailers lose up to $18 billion annually on lost produce that's thrown away.  However, Apeel is looking to cut this number drastically for the years to come. For example, Apeel reduced produce waste by 60% during an initial four month pilot with a leading U.S. regional grocery chain. Apeel executives have stated they plan to grow gradually, despite so much interest from distributors nationwide. The company has also hinted at aiming to stay just within the U.S. However, talks with Peruvian distributors may have the company heading in a more globalized effort in in the future. Food companies must innovate to meet future needs of both consumers and the environment. Where will technology lead us into the future with food sustainability? Will this be a key element aiding global hunger by reducing waste?
Want to learn more?
German pharmaceuticals firm Merck KGaA's health-care division is aiming to implement a new AI augmentation process. Merck plans to implement the new process after deciding to switch to an automated supply chain system. The new system will incorporate AI and predictive analytics throughout Merck's entire supply chain in 2019. Incorporating this type of technology is known to provide a competitive advantage in the industry. Merck already is using forms of AI to show trends, dips, and spikes across 100 products in a pilot program. In 2021, so-called AI augmentation will generate $2.9 trillion in business value and recover 6.2 billion hours of worker productivity, according to forecasts from Gartner Inc. Since the beginning of their implementation, Merck's CIO, Alessandro de Luca, has seen nothing but positive effects. Their success had led to them to push the pendulum to a fully automated supply chain system across their 5,000 products. Is AI going to be a key element for growth in any industry in the future? Where are there areas where this technology can't be beneficial to industries of the future?
Want to learn more?
Walmart has recently developed a new and technically advanced blockchain system. The retail behemoth has recently applied to the U.S Patents and Trademarks office for the new system. Walmart stated it will "provide a technology for running "in-field authenticating of autonomous electronic devices." Most importantly, it will enable secure deliveries for a more efficient supply chain. Even more, the patent aims to have two separate autonomous electronic devices verify shipping and delivery methods without human assistance. Walmart has even recently deployed a blockchain "leafy greens" tracker to ensure safety in produce, and reduce E. Coli outbreaks. The entire project will change the way the retail giant ships and delivers packages globally. Therefore, Walmart's blockchain project will cut spending and time needed to check delivery across all supply chain mediums using. Finally, Walmart has titled the patent "Systems, Devices, and Methods for In-Field Authenticating of Autonomous Robots." Will companies fail long-term if they refuse to convert to AI supported supply chains, or is it simply an advantage?
Want to learn more?
It's no doubt we live in a digital society. However, the supply chain industry has remained behind the times for many years, but end-to-end digitization is accelerating. Recently, CB Insights detailed over 125 startups that are leading the charge in revolutionizing the way supply chains operate. Categories of startups include e-commerce logistics, warehousing, food, fleet management, and more. Collectively, these companies are providing enhanced end-to-end visibility, streamlining operations, digitizing previously analog activities, ensuring food quality & safety, reducing costs and mitigating risk. The rise of born-digital competition has followed a spike in supply chain venture funding and industry incumbents are taking notice. In response, they have significantly increased their investments and acquisitions. What do you see? Will born-digital supply chain startups take over the industry? Finally, will the rise in incumbent digitization efforts prevent a leadership revolution to a digital future?
Want to learn more?