Press: GoodOps –

Client Supply Chain Audit in Fast Company
| 1 min read
Congratulations to ABLE for launching a bold and disruptive campaign in fashion – publishing factory worker's wages. Based on a rigorous supply chain audit performed by GoodOps, brands can evaluate their supply chains for potential risks. ABLE is a social enterprise focused on uplifting women out of intergenerational poverty. They are taking bold steps towards transparency to ensure their social impact marketing aligns with actual business practices. Their big dream is brands sharing their worker's wages on the label of each garment the same way nutritional facts are labeled on food.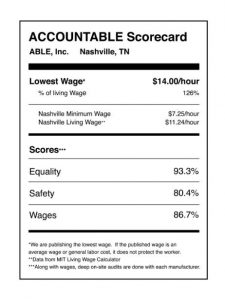 ABLE believes consumers will demand change once informed on the human cost of their purchases. ABLE wants brands to take the #PublishYourWages challenge to lift more women out of poverty globally. GoodOps is proud to have designed and led the sustainable supply chain audit for this powerful and ground-breaking initiative.
Learn more about their revolutionary campaign to change the fashion industry in Fast Company. #PublishYourWages #ShesWorthMore #livefashionable
De-risk your supply chain and strengthen your social / environmental impact through a custom supply chain audit – learn more about our services here: GoodOps.